How it works
Download the Distilando App
Create an account or log in
Review and write tasting notes
Learn more about famous spirit brands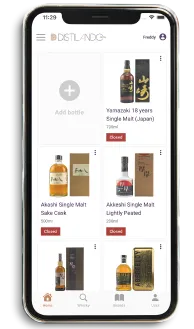 Build your personal digital whisky collection
With the Distilando app you can easily digitise your whisky collection. Match your bottles with our huge database and add them virtually to your personal collection. Track prices you paid for your bottles, add important details such as abv, cask types and more.
Now you can showcase your collection to family and friends, whenever you want to!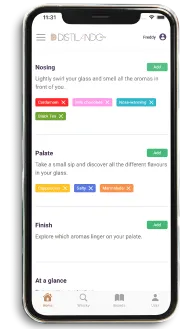 Write your own reviews like a real pro
Experience the spirits you've always wanted to try and review them with our tasting features. Take a look at your tasting notes at any time and edit them whenever you want. Make use of the visualised notes summary and recommend bottles to your family, friends and other spirits enthusiasts.
Select the colour of your dram
Write your tasting notes simply by tapping on the most fitting flavours
Rate your dram
Recommend it to a friend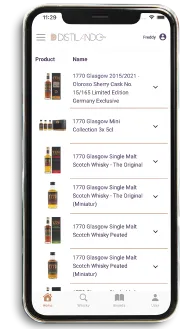 On The Hunt For Special Drams
You can find your new favourite bottles through our database with 7,000+ bottles from all the big brands such as The Macallan and Glenfiddich to Johnnie Walker, Yamazaki as well as coveted newcomers such as Bimber, Daftmill and many others.
Your bottles are not listed as of yet? Simply add them manually to your collection and help us grow our database.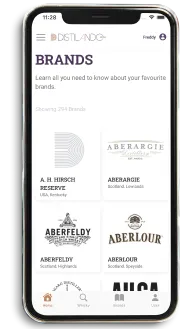 Dive deep into the World of Whisky, Rum and Cognac
Casual whisky drinkers can become whisky experts in no time through Distilando's in-depth articles on more than 300 brands. It is steadily growing to become the biggest encyclopedia on aged spirits. The information on distilleries' history and their unique production process on Distilando is unmatched. Not only does the App cover whisky but also the world of rum and cognac.
---
Distilando creates a new world - Find out which spirits you can collect and enjoy.
For iOS & Android